Watt Casey Photography
---
2019
A large number of photographs of Stevie Ray Vaughan can be found in the New York Times best seller book: "Texas Flood: The Inside Story of Stevie Ray Vaughan" by Alan Paul and Andy Aledort released August 13th, 2019. I was fortunate to be around Stevie from 1975 on photographing him before he became a household name and when he became known around the world. What turned out to be Stevie Ray Vaughan and Double Trouble's last show in San Antonio April 25th, 1990 was the last time we visited. Their final two Texas shows were in Austin and Houston.
Numerous photographs can be found in albums, box sets, books, documentaries and magazines. If you are interested in licensing images please contact Watt.
May 31st | A Large Photograph Exhibit Opened @ the Buddy Holly Center in Lubbock TX with a Gallery Talk & Book Signing Sunday Afternoon June 2nd. A good size crowd was on hand to discuss photographs and walk around the exhibit. By the time the exhibit closed July 21st, 2019, 6600 people from all over the United States and several other countries went through the gallery which is adjacent to the fabulous Buddy Holly Center.
May 25th – February 14, 2019 | Country Music Hall of Fame Nashville TN & Photographs in The OUTLAWS & ARMADILLOS: COUNTRY'S ROARING '70S
More to come…
---
MY GUITAR IS A CAMERA" by Watt Casey (Texas A&M).
Hearing the deeply cool Watt Casey discuss his lifetime of epic rock, blues and roots music photography made us want to rush out to find this book, packed with amazing photos and contextual essays by Joe Nick Patoski, Steve Miller and more.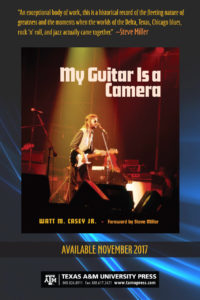 The long awaited, much talked about book featuring Watt's photographs of musicians is available. The book, published by Texas A & M press, is available on Amazon, Barnes and Noble, Book People (Austin TX) and other book stores online and brick and mortar. It will be available nationwide including at the Grammy Museums in California and Mississippi. The focus is on Texas, but includes images from Watt's work on Eric Clapton's 1974 US tour, Steve Miller at various shows in TX including Red Rocks west of Denver and Bruce Springsteen at Red Rocks and various Texas shows beginning in 1978. The book was a featured book at the Annual Texas Book Festival in Austin TX November 4/5, 2017 where Watt was asked to be on two panels which resulted in the Austin American journalist Joe Gross giving My Guitar Is a Camera his first pick out of the hundreds if not thousands of books at the festival.
Steve Miller wrote the forward, there are captions and various details about images. With over 20,000 words including a long essay from Watt's mid to late 1970's UT Austin housemate Mark Seal. Mark is a well known writer for Vanity Fair, author of books, one or more of which have been made into a movie. Well known chronicler of music, Texan Joe Nick Patoski, has written an essay on Willie, Sir Doug Sahm and the Austin scene where we both arrived a long time ago (1970).
Several other musicians are involved in addition to people who work in the music business. Bill Bentley, a musician and writer, moved from Austin to California and has worked in the music business for years, contributed insights about many of the musicians and concerts we both attended in the 1970's. Bill's work with artists like Merle Haggard and Neil Young plus ma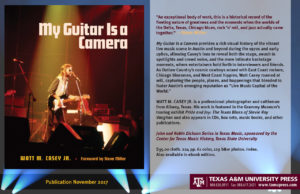 ny others provides a unique view. One of Eric Clapton's people told me "Bill is a near legendary figure in the music business" and I agree.
The Grammy Museum PRIDE & JOY:THE TEXAS BLUES OF STEVIE RAY VAUGHN exhibit opened in Tulsa, OK March 31st, 2016 and traveled to Austin via the Grammy Museum in MS. The exhibit opened at the Bob Bullock Museum in Austin March 10th, 2017. The exhibit uses multiple B/W and Color images of Watt's from 1975-1990. In addition the Grammy Museum used John Lee Hooker photographs taken at the original Antone's Home of the Blues in Austin in January 1977 in a 100th anniversary exhibit celebrating John Lee Hooker life and music. The exhibit opened
August 22nd, 2017
in the Grammy Museum in Cleveland, MS and will travel from there.
More Information
In the 1970's, with the encouragement of members of his family who are lifelong ranchers and cattlemen, Watt started photographing cattle, cowboys and ranch scenes. The photographs are used in magazines, brochures, various advertisements, web sites and in numerous books about the ranching and cattle industry in the United States and Mexico.
In addition to photographing on ranches the early 1970's found Watt in Austin TX, photographing countless musicians who either lived in Austin or came to Austin on tour. Thus began a career working with local and national musicians. The images are used in local and national publications, publicity material, numerous books, albums (multiple releases by Dylan, Springsteen, Stevie Ray Vaughan, & Muddy Waters have his photographs and most have several different photographs), and on the cover of Bruce Springsteen's best selling single "WAR".
Publisher Santa Cruz Press books "Two to Mexico" and "The Lasater Philosophy of Cattle Raising" showcase countless photographs taken in Colorado, Texas and Mexico.
Photographs taken in the US and Mexico during a 30-year period appear in Laurence Lasater's book "Tailwind Both Ways" published by Bright Sky Press. Bright Sky published many other books Watt did the photography for three fabulous cookbooks by Damian Mandola and Johnny Carrabba, the Founders of Carrabba's Italian Grill.
Watt has photographs in numerous books about Bob Dylan, Bruce Springsteen, Stevie Ray Vaughan and other books on various blues, country and rock musicians, and Watt's photographs are used in documentaries, films and/or tv productions about Sam Lay, Buddy Guy and Stevie Ray Vaughan.